Spring Cleaning! (Or Summer / Fall / COVID / ETC..)
Amazon product listing pages are a representation of your overall Brand and help shoppers feel comfortable with their purchasing decisions. Spring 2020 has arrived and now is the perfect time to improve your product listings and increase sales potential by implementing new strategies. One key recommendation is targeting for removal negative customer reviews.
Addressing negative product reviews help to increase sales and page rankings on Amazon search results. To get started removing reviews, it should take about 10 minutes or less following the steps below combined with Free Customer Review Removal Request template at end of this article to assist with sending out removal requests.
Say you are browsing through your catalog and spot a wild negative review…

The first two factors to look at when considering feasibility of review removal is if the review clearly violates Amazon Customer Review Guidelines. Secondly, look for reviews clearly promoting another brand or product or reviews which have nothing to do with the existing product.
To Remove Negative Customer Reviews
Report Abuse by clicking with the "Report Abuse" button under the product review. A secondary window may prompt you to confirm, accept and close window. After this step, it is time to drop a quick email or Instant message to your colleagues and ask them to do the same! The greater number of reports provides better chance of removal.

Copy Permalink to the customer review. To obtain permalink first click-through the customer review description and once at the screen below, Right-Click & Copy Link Address.

Write a Request to Amazon Community Support by emailing @community-help@amazon.com Using the Permalink link we copied, include this in the e-mail you send so they can quickly view.
And that is it! Consistency and persistence with Amazon are key in this exercise and if you are taking this effort you are already doing more than many of your competitors!
Free Customer Review Removal Request template
To: community-help@amazon.com
Subject: Customer Review Removal

Hi Amazon,
Please remove referenced customer-review from detail page for item below.
The reasoning is this product-review appears unrelated to the actual product.
In this case customer review is out of our control and not related to product.

For this reason, please remove this review.

Permalink: (Replace below with the copied permalink)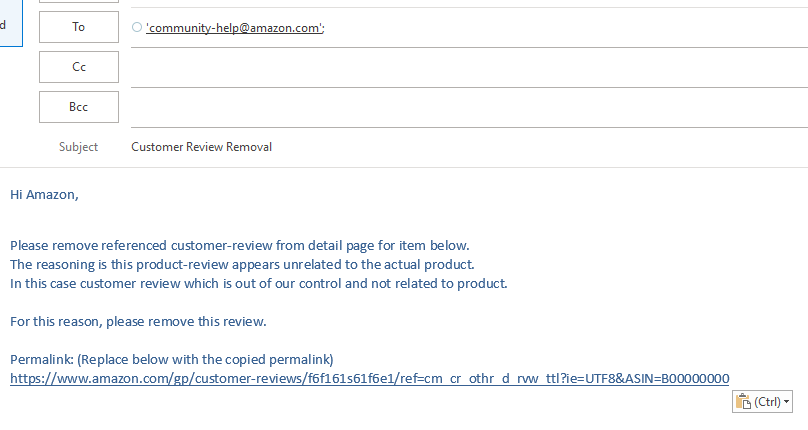 ---
Finding More questions than Answers? Need More Help?
If you are finding yourself unsure and need some advice on next steps, Schedule a phone call with us and we would be happy to speak with you and provide actionable feedback to get you started and pointed in the right direction.